Say "I Do" in the heart of Tuscany
Siena and Val D'Orcia offer a truly charming setting and an authentic Tuscan atmosphere, where romantic villas, luxury properties and award winning wine estates are immersed in a marvellous natural environment permeated with history and ancient traditions. The glorious city centre of Siena boasts the medieval Palazzo Pubblico in the gorgeous Piazza del Campo, frame to the world famous Palio horse race
and to unforgettable civil ceremonies. The city centre is dotted with elegant historic palaces, luxury hotels and a variety of beautiful churches where Catholic ceremonies may be held. The spectacular rolling hills of Val D'Orcia are the jaw-dropping view one enjoys from Pienza, while the medieval hill town of Montalcino sits boldly atop a hill overlooking the incredibly beautiful scenario of
clay hills and lush Brunello vineyards. Set on top of a hill between Valdichiana and Val D'Orcia is Montepulciano, characterized by majestic palaces, monumental churches and Vino Nobile vineyards. Siena and Val D'Orcia venues are all potentially unique scenarios to celebrate your unforgettable wedding in Tuscany, browse through our list of wedding venues and contact us for more details!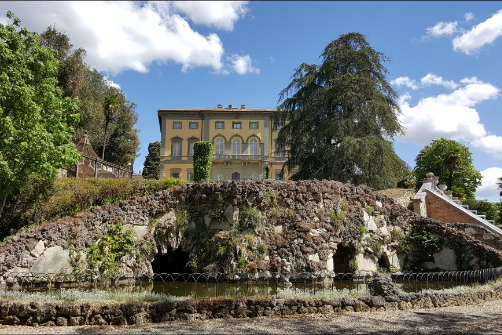 Elegant villa with monumental architecture and private park, surrounded by rustic farm houses immersed in Chianti vineyards. Ideal venue for weddings with 50 to 120 guests all accommodated on site. Scenic, peaceful and monumental.
capacity : 50 - 120
Read More
Historic villa with elegant Italian garden and breathtaking view of Val D'Orcia rolling hills, it rents for 3 nights minimum and is perfect for chic & romantic weddings with 30 to 100 guests. Bonus - statement garden and iconic view.
capacity : 30 - 90
Read More