Get married amidst Chianti vineyards
Chianti is not only the famous red wine made from Sangiovese grapes, but is also one of the most gorgeous rural areas of Tuscany. Set between Florence and Siena, Chianti not only features beautiful wooded hills and lush vineyards, but is also dotted with the most charming hill towns,
castles, ancient abbeys, wedding villas and historic wine estates that provide the best ambience to romantic wedding ceremonies and spectacular wedding celebrations. The Chianti hill towns of Radda, Greve, Gaiole and Castellina are surrounded by this beautiful and romantic countryside, and provide a wonderful backdrop for your civil,
religious or symbolic wedding ceremony – here you find the charming atmosphere of Tuscany's most enchanting countryside. Have a look at our Chianti wedding venues and contact us, we'll be happy to send more details and give you professional advice to find the perfect venue for you!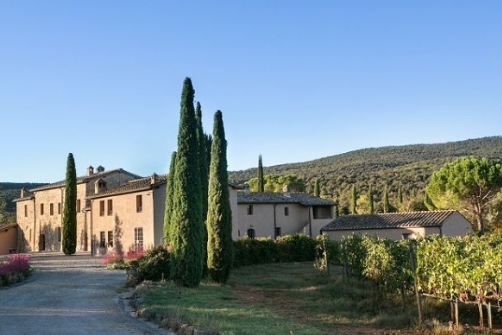 An ancient hamlet for 26-30 that rents for 2 nights minimum - perfect for weddings up to 45-50. Totally immersed in beautiful countryside with olive trees, vineyards and open views - silent, scenic and very romantic.
capacity : 30 - 50
Read More
Sumptuous villa with adjacent borgo, elegant Italian garden, monumental entrance with cypress trees. Magical and ideal venue for medium to large weddings from 30 to 100, rents 3 nights minimum - historical and luxurious.
capacity : 30 - 100
Read More