Wedding Services in Tuscany
Wedding Services in Cortona, Siena, Florence, Tuscany
Our goal is to create custom-designed wedding celebrations in Tuscany, Italy. We have carefully selected a team of very talented, reliable and constantly supervised vendors to guarantee high quality and customized services to the couples who choose us to plan their wedding in Tuscany. We will start from your ideas and wishes to nail down a few venues that work perfect for you: there are so many beautiful and romantic wedding venues in Tuscany, from exclusive villas with elegant Italian gardens, ancient castles with special atmosphere and gorgeous views, countryside Borgos with spectacular panoramas, available for one or more days and where a part or all the guests can be accommodated. Once you have secured a venue we will start focusing on the various services to create a memorable wedding day: we offer a wide range of Tuscany wedding services and will help you choose the best caterer, professional Chef and set up for your wedding reception, design a delicious menu, suggest superlative wines to pair each dish of your wedding meal, book the most amazing wedding cake with
our recommended suppliers. Food & wines in Tuscany are divine so it won't be difficult to design the wedding reception of your dreams! With us you will have extensive support in selecting the ideal solution for your hair & beauty, flower decorations, music & lights, photo & video, to design the best frame to your wedding day, bring out the highest emotions and create the greatest memories of your wedding in Tuscany. We are also available to arrange your pre- and post-wedding events like rehearsal dinners, welcome BBQ, farewell brunch using the best caterers and Chefs available in the region. With us you will also find professional assistance to arrange bespoke special activities for your guests, like unique wine tours around the region or fun private wine tastings at the venue, sightseeing tours of the major art cities in Tuscany and Umbria, visits to farms and oil mills to savour the best pecorino cheese and olive oil. Don't wait any longer! Send us your enquiry using the form below and we will be happy to explain further!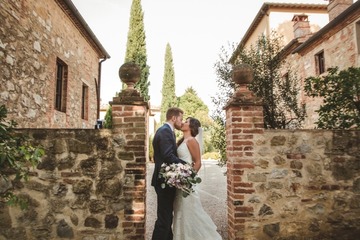 Photo & Video
The everlasting memories of your wedding day, photos and video are of vital importance. A wide choice of photographers and videographers for every style and budget is available with us.
Send Inquiry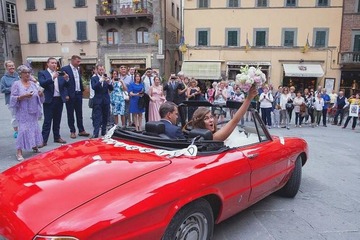 Transportation
Bridal car and transportation for guests are never a problem, a wide range of options is available with us to take guests from and to the wedding venue and move around during their stay.
Send Inquiry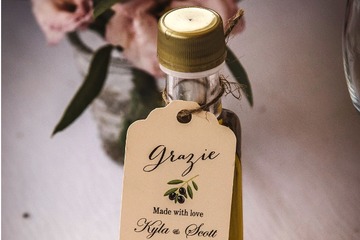 Favours
Dress up dinner tables and tell your guests how important it is for you that they are present at your wedding. Choose Italian traditional favours like sugared almonds, mini olive oil bottles and more.
Send Inquiry