Wedding Ceremony in Tuscany
Wedding Planner & Translator to marry in Cortona, Siena, Chianti, Tuscany, Umbria
Wedding ceremonies are the most emotional moment of the wedding day. Together we may choose the nicest ceremony location, be it a romantic church, an ancient palace or a scenic garden at the wedding venue as perfect frame to your wedding vows. We provide professional Wedding Paperwork assistance and Wedding Translation Services in Tuscany for required documents and legally sworn translations, to help you prepare and submit your wedding documents to the necessary offices without worries and in due time. We may be also be hired as Interpreter in English, German, Spanish at your civil ceremony as required by law. Being familiar with the different documentation and procedures required by local Italian authorities to foreign couples who wish to marry with civil and religious ceremony in Italy, having assisted clients from several different countries (USA, UK, Canada, Australia, Ireland, Germany, Holland,
Norway, etc.), and having arranged different types of religious weddings (Catholic, Protestant, Anglican, Orthodox, Jewish), we provide extensive professional support to obtain the correct wedding documents and ensure that your civil or religious ceremony is officially valid in Italy and in your country - plus we provide English-speaking celebrants when needed. We also help couples arrange beautiful symbolic ceremonies of course! In this case no paperwork may be needed. Contact us to receive details on the specific procedures to marry legally, with religious or symbolic ceremony in Tuscany & Umbria. Hereafter is a list of amazing locations where I operate as Wedding Ceremony Planner, Wedding Translator and Interpreter for civil ceremonies, on request I am available elsewhere too! Browse through the destinations and send your inquiry, I'll be happy to explain how I may help arrange your wedding ceremony!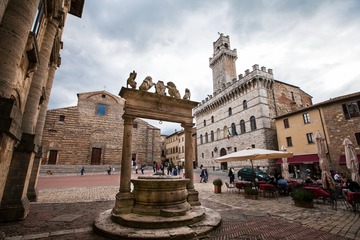 Marry in Montepulciano
Scenic frame
A scenic hill town of Tuscany thanks to its strategic position on top of a hill overlooking Valdichiana and the wonderful rolling hills of Val 'D'Orcia, Montepulciano has a picturesque historic centre ideal for destination weddings. Choose a civil ceremony in the evocative Town Hall Palace, or a Catholic ceremony in the Cathedral, or in the monumental church of S. Biagio. ......
Send Inquiry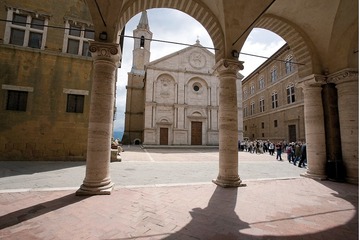 Marry in Pienza
Romantic setting
Pienza is a unique gem of Tuscany, perfect for romantic and intimate weddings with breath-taking views of Val D'Orcia rolling hills. The classic architecture of the Cathedral is perfect frame to Catholic ceremonies, as is the rustic and fascinating atmosphere of the Pieve di Corsignano, while civil weddings are performed in the Town Hall Palace by the main square.
Send Inquiry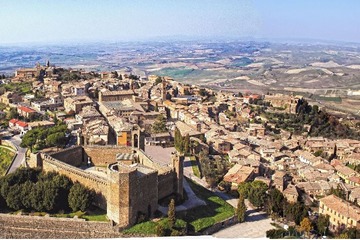 Marry in Montalcino
Breath-taking views
This famous hill town of Tuscany not only boasts excellent Brunello wines, but also a picturesque historic centre ideal for idyllic weddings amidst history and vineyards. Civil weddings are held at the Town Hall palace, while it is possible to marry in one of the churches of the area like the monumental S. Antimo Abbey fully immersed in vineyards.
Send Inquiry